By A.F. Branco –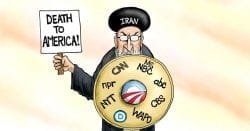 Trump-derangement-syndrome has the mainstream media defending Iran, the state sponsor of terrorism. Political cartoon by A.F. Branco ©2020.
See more Branco toons HERE
Enemies of my Enemy – A.F. Branco Cartoon is original content from Conservative Daily News – Where Americans go for news, current events and commentary they can trust – Conservative News Website for U.S. News, Political Cartoons and more.