In the News
White House Press Briefing with Jen Psaki and Jake Sullivan – 8/17/21
By R. Mitchell –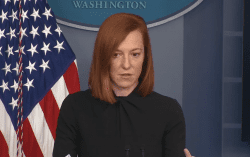 White House Press Secretary Jen Psaki and National Security Advisor Jake Sullivan hold a briefing Tuesday to continue the Biden administration efforts to spin the disastrous planning and execution of the Afghanistan pullout.
The briefing is scheduled to start at 1:30 p.m. EDT.
Content created by Conservative Daily News is available for re-publication without charge under the Creative Commons license. Visit our syndication page for details.
White House Press Briefing with Jen Psaki and Jake Sullivan – 8/17/21 is original content from Conservative Daily News – Where Americans go for news, current events and commentary they can trust – Conservative News Website for U.S. News, Political Cartoons and more.